The Tamuli is a series of fantasy novels by David Eddings. The series consists of three volumes:
The Tamuli is the sequel to The Elenium. In this series, Sparhawk and friends travel to the Tamul Empire, far to the east. In this respect it is similar to that of The Malloreon in which the characters from The Belgariad series journey to the eastern continent in their world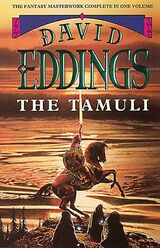 Ad blocker interference detected!
Wikia is a free-to-use site that makes money from advertising. We have a modified experience for viewers using ad blockers

Wikia is not accessible if you've made further modifications. Remove the custom ad blocker rule(s) and the page will load as expected.