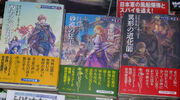 The Malloreon is a five part fantasy book series written by David Eddings, which follows The Belgariad. The Malloreon is set in the same world as The Belgariad, but expands on several aspects of the setting, especially the eastern continent of Mallorea. One of the main themes is that the apparently monolithic Angarak race, antagonists of the first series, are a more complicated group of peoples than previously shown.
Works in the series
Edit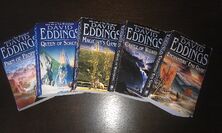 While the story concludes in The Malloreon, minor events occur in the prequels Belgarath the Sorcerer and Polgara the Sorceress, which otherwise cover the history of the world.
Ad blocker interference detected!
Wikia is a free-to-use site that makes money from advertising. We have a modified experience for viewers using ad blockers

Wikia is not accessible if you've made further modifications. Remove the custom ad blocker rule(s) and the page will load as expected.