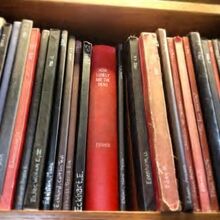 How Lonely Are the Dead is David Eddings's senior thesis at Reed College. His faculty adviser was Lloyd Reynolds.
The plot involves a soldier returning from Vietnam to find that his girlfriend had committed suicide. The book is only available for reading in the Reed College Thesis Tower.
Ad blocker interference detected!
Wikia is a free-to-use site that makes money from advertising. We have a modified experience for viewers using ad blockers

Wikia is not accessible if you've made further modifications. Remove the custom ad blocker rule(s) and the page will load as expected.