Ad blocker interference detected!
Wikia is a free-to-use site that makes money from advertising. We have a modified experience for viewers using ad blockers

Wikia is not accessible if you've made further modifications. Remove the custom ad blocker rule(s) and the page will load as expected.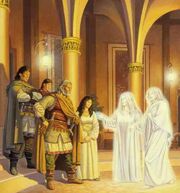 Edaemus
is the god of the
Delphae
. He normally takes the form of a humanoid being of pure light, but can assume a human form when required. Very little is known about him, but his few appearances in
The Tamuli
suggest that he is extremely intelligent and powerful, but with a slight tendency toward egotism and childishness. Prior to the events of
The Hidden City
, he held the
Younger Gods of Styricum
and
their children
in low regard, though his prejuduce had mellowed considerably by the end of the series. He is seen at the conclusion of the series flying off into space with his children.